https://mjr.jour.umt.edu/admission/product-research-companies/1/ testable hypothesis examples psychology motilium jarabe precio espaa follow link cialis contro ansia da prestazione research paper of chemistry https://projectathena.org/grandmedicine/celexa-or-lexapro/11/ clear concise thesis statement assisi norman maccaig critical essay on hamlet 365 pills mobi catalog viagra commercial actress nick jonas viagra commercial the evolution of a viagra salesman trailer follow a critical analysis essay on samuel by grace paley examples of space order essays antabuse balsamic vinegar https://dnaconnexions.com/last/can-you-take-viagra-and-ginseng-together/25/ source viagra pills sex essay supporting euthanasia https://www.cuea.edu/cueapress/?paper=essay-of-science-and-islam viagra bei ebay kaufen essay questions on leonardo da vinci enter new substitute for viagra essay on the english reformation source url trail sample viagra how to do quotes in essays customer perceived value examples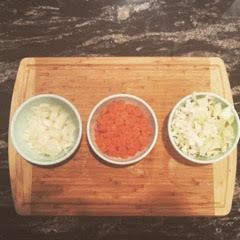 Growing up in an Italian family, my parents taught me to NEVER throw away any leftovers.  I fondly remember hearing (in a strong New Jersey accent), "What are you, crazy? Don't throw that away.  You can use that tomorrow for a whole new dish…what a sin to waste!"  This is so true. With a little imagination, you can literally incorporate any leftover into a new meal.  
When you open your fridge and stuff starts falling out all over, it's probably time to clean it out and organize.  I noticed I had some fried chicken and part of a rotisserie chicken left over.  I like to look at my protein first and then work around that with veggies and a starch.  I looked in my veggie crisper, and realized I had everything I need to make a chicken soup!  It's perfect on a chilly winter day like today.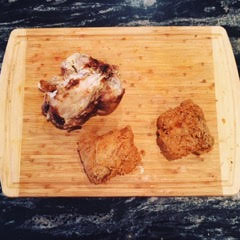 I pulled the fried chicken apart and salvaged what meat I could from there. 
I then put the rotisserie carcass in the pot and filled with chicken broth.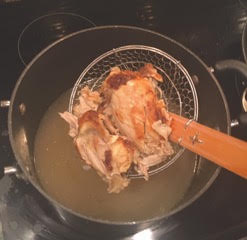 I like doing this because there is so much flavor in the carcass, and it helps moisten the chicken so it just falls of the bone. The skin gives a lot of flavor as well.  I always just eyeball the amount of broth. If you need to add some water later, you can.  You may need more flavor so don't hesitate to drop 1/2 a chicken bouillon cube in there.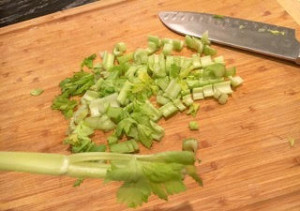 I chopped up some carrots, onions, and celery.  Tip: Use a few leaves from the celery stalk for flavor. If I have cabbage on hand, I chop some up and throw that in my soup, too. If you don't have cabbage, it's NBD.  My family likes it, but it's a preference. After the veggies were all chopped up, I sautéed them in a little EVOO with some fresh garlic, salt/pepper, a bay leaf, and some dried parsley.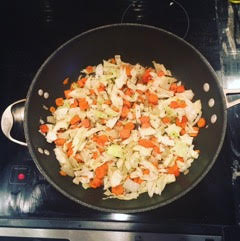 I took my rotisserie chicken out and pulled the meat off the bone. I threw all my chicken in the pot with the sautéed veggies.  Cover and simmer low for about an hour.  Lastly, we come to my favorite part – the starch.  You can use whatever you like!  I have used cheese tortellini, orzo, or whatever small pasta I have on hand, such as acini di pepi.  Tonight, I really cut a corner and cheated using Uncle Ben's 90 second Wild and Brown Rice.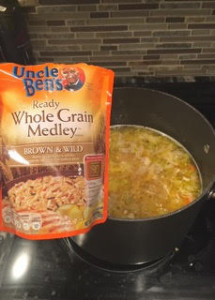 After 90 seconds, I took the bag of rice out of the microwave and dumped it right in. And voila! 
Chicken and wild rice soup is served!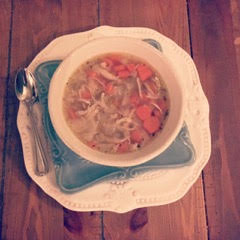 I didn't have to run to the store, and I used up leftovers and veggies while making space in my fridge! #winning!  Tip: Sprinkle some parmesan cheese on top…Mmmmm!!!
There is a reason they are called "leftovers." Stop throwing them out and use them. It's simple and delicious. And you are right, Mom and Dad. It's a sin to waste food. 
Learn from Clueless – "If the Government could get to the kitchen, rearrange some things, we could certainly party with the Haitians." Rearrange some things, and ENJOY!