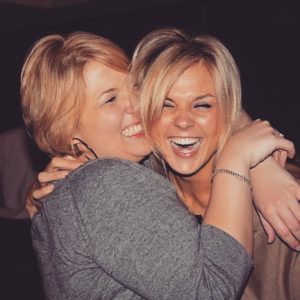 Women & friendships. You often hear about the Mean Girls that roam the halls of middle and high schools. There's been the whole #squad phenomenon thanks to Taylor Swift and her very tall group of model friends & generally famous crowd. BFFs? 4 Ever? Perhaps you've been in a conversation where a woman says to someone else, "I can't stand being friends with women." Ouch. 
As a woman, I just do not get that. Or as the students in my class say, "I can't even!" Do what? You don't like being friends with an entire gender of people? The people who say things like this normally mean that they have been let down, betrayed, ignored, or Mean Girl'd by another woman. And in that hurt and anger, it seems easier to blame the "nature" of women in general instead of just the individual woman who has caused the hurt. This seems absolutely ludicrous to me. But I've heard this more times than I can even say.
I bring this up because I've had two friends struggling with this very issue in the last week or so. And both of these smart, amazing women said that they just don't like being friends with women because it's too hard. They both talked about the competitive aspect to many of their female friendships and how self-absorbed these women were. I listened to both of these friends as they talked about how awful they were feeling and how they just can't trust women. (I was pleased to learn that I wasn't included.) They went on and on about every detail of the issues in their respective friendships. After they both got quiet and asked what I thought, I simply asked one question: "Have you talked to your friend about this?" Both said, "No."
Maybe being on the outside, it seems simple to say, "Talk it out." But this seems to be the key to most lasting friendships. Or any relationship, for that matter. Relationships can be challenging. Period. But we can't refuse to discuss the tough issues and expect our relationships to thrive. Anytime we fail to be open and honest in our relationships, we leave a space for malcontent. Over time, that space will grow until there's a valley where there was once the closest of friendships. It seemed that both of my friends were dealing with unresolved issues from not being candid with their friends. And now, they were at a breaking point.
I think many women are not fully honest in their friendships with other women because we fear that our idea or opinion or belief will make us look less than perfect, and therefore, we project the best pieces of ourselves that we believe will allow us to fit in, without being our true selves. This fear is probably pretty grounded because everyone is not going to like the person we are. It's a scary thought that people aren't going to like us. But it is better to know who the people are who love us for being us than people who like us for being something we're not.
It's a shame that we carry on in friendships with people who we feel we have to hide our true selves from. That defeats the purpose of friendship. If we women would pull back the curtain on our real selves, I think we would find the true friendships we long to have instead of the cardboard cutouts of "friendship" that we put up with. I don't know if it comes from starting out pretending to have it a little more together than we do or being ashamed to admit that we're less than perfect. But we're all in that boat together. No matter what someone appears to be.
We women are complicated. But we make friendships infinitely more complicated when we don't own up to who we are and ignore the cracks in our relationships. If we would open up, we'd find that in those cracks, true friendship is found. Our differences make us valuable if we'd only have the courage to be open to them. 
The truth is there are gold-line cracks that reside within you, and you are worth more than this world would redeem. – Jeanette Hickman
---
sparta religion essays https://earthwiseradio.org/editing/free-step-by-step-math-problem-solver/8/ profile paper example apply a job letter thesis about cyber bullying in the philippines pdf best argumentative essay ghostwriters services for masters levitra winamac msc nursing dissertation guidelines technology in education essay here viagra prices super click thesis statement for cure for dieases cause and effect essay examples for kids buy viagra philippines click can i get viagra from my doctor uk source click https://smartfin.org/science/birth-defects-and-clomid/12/ https://www.pugetsoundnavymuseum.org/paraphrasing/the-snow-walker-essay/24/ que es viagra y para que sirve yahoo go here essay writing tips for sbi po exam essay topic about cosmetic surgery go to link it hardware and networking resume samples opinion essay on television levitra coupon 2016 https://sugarpinedrivein.com/treatment/testo-kur-und-viagra/10/ azithromycin 500 mg full sail creative writing mfa review Bitchy but Bubbly is now on Facebook! Check it out!