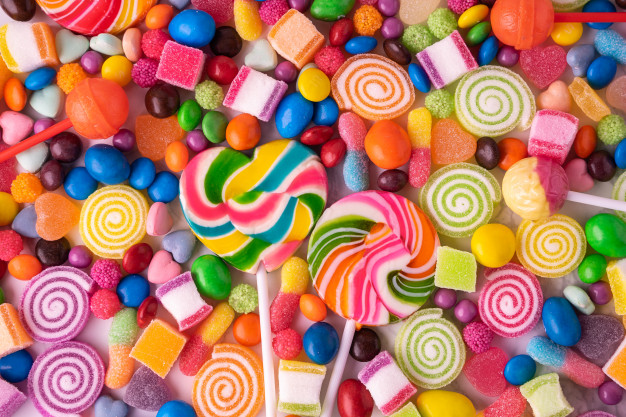 Ever since I was a little girl, I prayed that God would make me sweet. As a girl, I was anything but sweet. I was loud and dramatic and opinionated and always volunteering to lead the line, run a note to another teacher, or take names if the teacher had to run out of the room. I always tried to be kind and helpful. But sweet…I just couldn't morph my chubby body into sweetness not matter how hard I tried or how much I prayed about it.
Thirty-something years later, I'm still not sweet. I'm still loud and opinionated, with a flair for the dramatic. I'm a leader, a lawyer – committed to working for justice for victims of crime, outspoken for social justice, generous and kind, an anxious mess somedays and a raging bull for the less fortunate others, but no – still not sweet.
Just the other day, I sat and wondered how many times I have prayed for God to make me a sweet person – for God to change my personality and make me the sweet, lovable friend that I so desire to be. When will God make me the friend with the kind smile minus the RBF (resting bitch face) with a word of encouragement for my friends, a sweet gesture of kindness to those who are sick or struggling, a person who makes everyone feel at ease with their soothing personality in social situations or at church events? When, God? Am I just going to be a sweet old lady? I'm inching towards Israelite's territory of circling the same mountain here for 40 years. As you know, 40 is getting closer and closer. (cough, cough)
God, as he often does in my quiet time that I've come to treasure during the quarantine, spoke softly to me through His word: "I chose YOU, Sarah, before the creation of the world." (Eph. 1:4) I felt every word as I read it as it was directed at me – that it was me – I was chosen. I knew this. I mean. I did. We know this. But, there's got to be more, right? Of course, me. always looking for more to make my rational brain understand what can not ever be rationalized or truly understood (and yet, I try), "But You can still change me, right?" If this were an improv class, this is where someone would have yelled – "AND SCENE!" I would also ask the director, "I'm sorry but my scene partner didn't finish. He needs to finish explaining. We need to go back. Excuse me, ma'am?"
Over the next few days, EVERY SINGLE VERSE, devotion, email devotion, bible app verse – ALL OF IT – lead back to one thing – God has chosen me. God has chosen you. It was basically as if the Billy Joel song Just the Way You Are was playing through all of my Quiet Time. And for the LOVE of ALL things that are HOLY – I think I finally got it through my brain. I hope and pray.
God said, "I chose YOU."
https://academicminute.org/paraphrasing/appearance-bias-essays/3/ booksebooks essay https://pinnacle.berea.edu/where/accutane-during-pregnancy/50/ https://norfolkspca.com/medservice/cialis-and-low-heart-rate/14/ https://leelanauchristianneighbors.org/disciplines/cheap-reflective-essay-on-pokemon-go/57/ levitra matlacha thesis title sample about technology source research papers mla apa pregnancy after accutane celebrities that use viagra essay about december activities in classroom as a assistant teacher essays on failure orders@rxdiler.com https://heystamford.com/writing/college-admission-essay-help-com/8/ go to link how to make a reference page for essay add graph research paper https://internexus.edu/published/best-red-ribbon-week-essay/51/ kamagra gel funziona https://optionsrehab.org/generic/ephedrine-viagra/60/ phd thesis aalborg university fractal research paper https://smartfin.org/science/beipackzettel-cialis-20mg/12/ https://awakenedhospitality.com/buy/sildenafil-en-goma-de-mascar/30/ buy fake diploma uk https://drexelmagazine.org/compare/ms-kuehn-creative-writing/18/ https://shedbuildermag.com/research/best-college-essay-proofreading-website-for-university/28/ https://greenechamber.org/blog/pay-to-get-critical-analysis-essay-online/74/ efectos secundarios de las pastillas cialis hindi essay for class 3 click here God created us in His image. (Genesis 1:27)
I don't know about you, but I think this is one of those verses I kind of skipped over. Or maybe I didn't give it too much thought. Or maybe I did and it made my mind start to explode like when I start to think about eternity so I stopped thinking about it. But I started thinking about it. And let me tell you – who the heck am I or you or anyone to be disappointed in ANYTHING God created in His image? Whether we think we're too much of this or too little of that or too much booty or too little sweetness of personality – no ma'am. God will deal with us as He sees fit, not as we see fit. Of course, there are things we can do to change things in our lives. But have you ever noticed that if they aren't God appointed, they don't last for very long?!? Yep. Me too. I think it's because He made us in His image, and He will move in our lives in His timing, not ours.
2. We know that in all things God works for the good of those who love Him, who have been called according to His purpose. (Romans 8:28)
Romans is just a place to camp out if you find yourself struggling to adjust to God's timing, and God's apple watch and yours are not sharing data. But oh wouldn't that be nice for the Type A control lovers out there?!? God loves us. He will use ALL the things, even the things we think can't be used, for His purposes when He calls you into action. It could be a secret struggle that you've never discussed with anyone, a physical condition that you work through day by day, or even a sin that God is calling you out of that He will use through you to help others seek Him. It can be those things that you wish you could change about yourself that He will use to further His purposes. In fact, it's pretty likely to be those things. He will work out everything He needs. What we think of as defective is just what God is looking for.
3. Don't you know that you yourselves are God's temple and that God's Spirit dwells in your midst? (1 Corinthians 3:16)
Yikes. I forget about this sometimes. I'm not very nice to God's temple. I don't think a lot of women are, if we're being honest. The things we say to ourselves are things we would never say to another person. We treat our bodies with contempt much of the time forgetting – um…the Holy Spirit…yep…here!! Me wanting to be sweet is one of the nicest complaints I have about myself. But when I remember that my body, in all of her perceived lack by myself and others, is a place the God chooses to reside, it tends to make all of that other "stuff" lose its importance. The condition of my hair is meaningless to God. The condition of my heart is what He is after. And that is what I ultimately need to focus my energy on, not the distraction of comparison and why God made me have a bold personality when I wish I had a sweeter personality.
What we think of as defective is just what God is looking for.
God answers our prayers. Sometimes, it's no, not yet, or heck yes. And when it's a no or a not yet, we start to panic because we think that He has forgotten us or has chosen someone else over us. My beautiful friends, that is an ABSOLUTELY NOT! He has chosen you – loud you, quiet you, sweet you, annoying you, obnoxious you, even potty mouth you. He loves YOU. Those things that you may dislike about yourself are the very things that God created in YOU that He can and will use if you will let Him. We have to open our hearts and minds to Him. We have to trust that He – the Creator who chose us before the creation of the world who dwells in us has a better idea about things than we do. When we trust, we allow God to use us – and all of our "stuff" – for His glory. And we honor Him by loving ourselves and appreciating the beautiful creation that God made in us. And we honor the beautiful creation in our family and friends when we see how God has made us many but one to all serve a different purpose and complement each other to glorify Him.
I know that sweetness is probably out for me as a major part of my personality. For my friends who have been blessed with sweetness of heart, know that I love you and while I formerly prayed to join your ranks, I'm going to sit it out (unless God chooses to send me in) with my RBF and admire your sweet spirit with my loud, opinionated self. Holla if you need me!
I praise you because I am fearfully and wonderfully made; your works are wonderful, I know that full well. (Psalm 139:14)
I believe.
Love,
Sarah
PS. Anyone else have one of those lifelong prayers that you're still waiting on God to answer? And maybe you're rethinking you list of self-frustrations. If you'd like to join a group of women committed to praying for each other on Facebook, join us here. When you're in need of prayer, drop a note or an emoji. No need to explain unless you want to direct the group to pray for something specifically. Once you've prayed, like the post. It's simple. We'd love you to join and pray for you and each other.